Brent Braunberger – Lead Pastor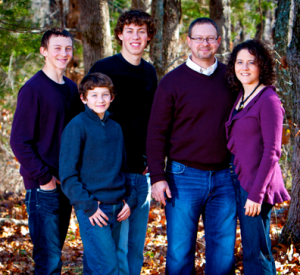 Pastor Brent and his wife, Amy,ministered for 15 years in North Dakota and Missouri prior to moving to Crete in 2005. Brent and Amy both received their B.A. degrees from Trinity Bible College in Ellendale, ND. Brent later completed a Master of Divinity degree through the Assemblies of God Theological Seminary in Springfield, MO. Their three sons enjoy sports, music and drama, and are active in the Crete Public Schools and community activities.
Pastor Brent and Amy have a passion to see God transform lives through the power of the Holy Spirit in Southeast Nebraska. Most of all, they desire to see a strong and vibrant Assembly of God church established in the Crete area.
Email: brent@radiantsprings.com

Josh and Karen Williams – Youth Pastor
Josh has lived in Nebraska since 1999, though non-consecutive years, and now calls this state home. Originally from Panama City, Florida, he has lived in Michigan, California, and Texas. Josh moved to Crete in June 2010. Josh graduate from Bellevue West High School in Bellevue, NE and completed two years in Bellevue Master's Commission. Josh graduated from Southwestern Assemblies of God University (SAGU) with a Bachelor's in Secondary Education in History/Social Studies. He will pursue further education when the time comes. Josh is also a substitute teacher and a bus driver for the school district.
Karen is originally from El Salvador and has lived in Nebraska since 2001. Karen graduated high school from Lexington, NE. She graduated from the University of Nebraska at Kearney with a Bachelor's in Math and ESL Education and a Specialist in School Psychology. Karen has been a school Psychologist for Crete Public Schools since 2011. From June 2011 to July 2013 Karen served as the children's minister at Radiant Springs Church.
Josh and Karen married in May 2011. They love serving as youth pastors and being involved in the community. They feel called into foreign missions and will venture into that area when God gives them the opportunity to do so.
Email: joshuacodywilliams@gmail.com